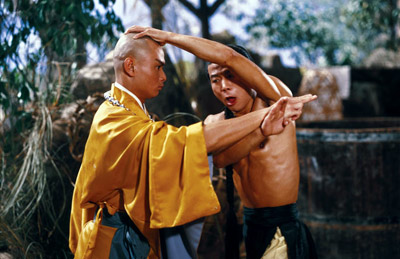 After blogging for the past two and a half years, I now know that if it's not feeling natural to you then you're pretty much killing yourself.
I speak from experience, of course.
I lately find myself trying a little too hard to conjure up that perfect post. It's as if my mind refuses to cooperate with the powerful majority who insist on a catchy linkbait headline followed by a bunch of giddy, motivational advice, parables and clever analogy.
Most times I just want to sit at the keyboard and speak exactly what's on my mind. No more, no less. Just the truth.
Do you ever feel this way?
If blogging is like kung-fu…
If you ever watch a Chinese kung-fu movie (dubbed, of course—it has to be dubbed to get the full effect of awesomeness) you'll often notice that different fighters rigidly adapt different styles of fighting according to their natural talents and personalities.
These kung-fu styles are usually centered around an animal, like a tiger or monkey or praying mantis. No one style is ever superior over another. It's up to the talent and discipline of the fighter to kick the other guy's ass while saving his.
If fighter can't master their style, they go down pretty quick.
The same could be said with blogging—there are some very distinct styles.  I can name at least 5:
Editorial: opinions, rants, observations, personal thoughts
Educational: how-to advice designed to solve problems
Newsy: late breaking news and gossip
Theoretical: connecting big ideas to real-world examples (like science)
Confessional: juicy personal gossip, often taboo
Do any of these resonate with you? Maybe more than one?
…then bloggers need to fight like kung-fu fighters
I sense that a lot of bloggers right now are getting frustrated because they're being led to believe there's only one way to blog "properly."
They look up to the bloggers who have done well for themselves and figure they need to duplicate their style in order to achieve the same successful results.
It doesn't quite work that way. Everyone has a different style that fits them best. It's better to find out what you don't like and move on to something else than to think what you're doing is going to work just because someone else is doing it well (but you're just not feeling it).
When you discover your style, run with it. Better yet—go kick some ass.
Hey, look: I just wrote another post with a catchy linkbait headline followed by a bunch of giddy, motivational advice, parables and clever analogy.