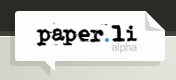 The amount of content on the web is now so abundant that it's begging everyday users to jump in and start curating what they consume.
One such service is paper.li, an online "newspaper" that anyone with a Facebook or Twitter account can plug in to. It gathers and sorts through the links shared in the past 24 hours and creates a webpage that looks like a WordPress news site with your chosen name across the top (like The Wordful Daily).
Across the top of your "newspaper" is a navigation bar with different categories, like Technology, Business, Travel, etc. —just like a real newspaper. Ads are served, as is a Google search box, social sharing and embed tools and an "editor's note" area.
Content Curation vs. Just Sharing
There are three choices of feeds you can pick to create your newspaper: your entire Twitter feed, feeds only marked with a designated #hashtag, or feeds from a Twitter list.
Average users looking to impress (whoever) will probably pick the first choice, where paper.li pulls anything and everything from your Twitter feed and spits it out as a rather big and cluttered mashup of other people's content.
To me this option is worthless because the editorial strategy being executed is based purely on algorithm. Without human intelligence or choosing, I don't see much value to readers who would be forced once again to sift through heaps of stories and headline screaming for their attention.
The list feature returns similar results, but with a little more specificity. If you've created a list of, say, highly influential people in your niche, you could publish some something a little more focused.  But not totally, because you have no control over which links they end up choosing.
The obvious choice if you want to really serve up relevant content to go with the option where only tweets marked with a certain #hashtag are extracted. I didn't test this feature out yet, but theoretically you could have total control over what you're sharing.
This option really gets down to the essence of editing and curating content. The idea of paper.li is to have a central place where you can republish links to things you feel are worth sharing, which it seems to allow.
It's Good but Lacks Something Vital
One of the challenges I see, however, is getting people to actually click on yet another link (to your paper)…one that takes them to yet another truckload of content.
You'd have to establish some sort of trusted and likable editorial authority among your social peers in order for them to read your daily newspaper. Otherwise, who cares?
Paper.li and a similar service for the iPad called Flipboard are a good start to better content curation for a place that's quickly turning into a teeming and formless mass of content. Kind of like The Blob.
But they seem to be missing something. I think they're missing the people who have enough control over what they consume to effectively share it with others.
Everyone seems to be drowning in content these days. We haven't caught up to this technology yet. Will we ever?