You are reading Part 1 of 3 on How to Name Your Blog.
Part two covers the different types of names you can choose from.
Part three offers an easy tutorial to help you get ideas for your name.
Make that name stick, make it electric!
A great blog name gives you an immediate upperhand when it comes to branding, readership and overall lovability. It's often the first point of contact with your readers and the one thing that remains constant as your blog evolves. If you can secure a fabulous name for your blog, the brand recognition alone can help draw attention from more established blogs with inferior names.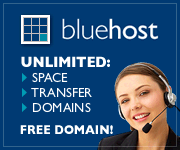 The problem for most people naming their blog is that every great name must also have its matching available domain. Domainers and cybersquatters have made this process very frustrating and difficult for those of us who just want to establish our websites and get on with things.
I'd like to say that naming your blog is a breeze, but it really isn't. There are certain unofficial guidelines you must follow to make your name original and brandable. All too often I see people jump into a name without much imagination or patience. The result is more embarrassing than anything.
First let's start with naming fundamentals:
Three Elements of a Great Blog Name
It sounds good. Your blog name really needs a certain ring to it so that pleases not just your ears but everyone else's as well. As you go thru your names say them out loud to yourself and others and get a reaction. Beware of overthinking it or trying to sound too cute, because the results can be rather abrasive (like vacationsexpress.com or whorepresents.com; also Jaiku, Plaxo, Plurk and Orkut sound pretty unpleasant to me).
It's catchy and memorable. Remove any signs of boredom or mediocrity or that you've settled for second best. I used to think Amazon.com was such an oddball name but I guess that's the point! Ask yourself: would someone remember it after seeing it just once? Can it be spelled after reading it once? What image does it convey?
It's short. The name should be concise. Try to avoid articles (words like 'a', 'an' or 'the') and other superflous modifiers (such as 'best' or 'most' or 'happiest'). Another way of looking at it is to keep it under four syllables — any more than four and repeating it becomes a chore. There are exceptions to this, like when you might use your own name (garyvaynerchuk.com) or it just flows nicely (cinematical.com). Examples of good short names include: woot.com. JohnChow.com, Skype, Dooce.com, Gap, Hotair.com.
This concludes blog naming basics. With this advice you should start brainstorming and writing down your ideas. And if you've already started on this, strongly consider scratching off the names that don't follow these rules.
Bonus: most web hosting companies offer a free domain name with a purchase with a hosting plan, which will run you about $6.95 per month (so worth it, trust me). I personally recommend Bluehost (affiliate link).
My next post simplifes your blog naming process by discussing five particular types of names..