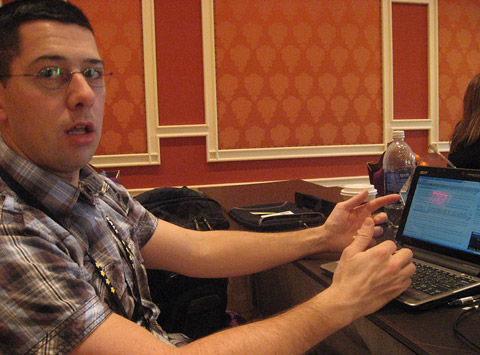 Now I'm a real admirer of Lisa Barone's savvy writing style, so it was of definite intrigue that she and two other bloggers got edged out by Eric Nagel for the Affiliate Summit 2011 Pinnacle Award for "Best Blogger."
So how did Eric—a PHP programmer running a default Thesis Theme blog with an erratic posting schedule—win such a coveted award?
I was lucky enough to catch Eric in the blogger's lounge on the last day of Affiliate Summit West as everyone was getting ready to jet home. Strangely enough, he didn't have his trophy nearby because it looks like John Chow commandeered it.
I congratulated Eric and asked him a few impromptu questions about his blogging. His answers revealed why he deserved the win:
He Claimed Authority on a Hot Topic
From a purely content-centric point of view, Eric absolutely crushed it with his 9-part series on how to build a data feed site.
A data feed site is a "set it and forget it" niche affiliate site that pulls in content from a "data feed" supplied by the merchant—mostly product descriptions mixed with some sales copy. It's your job to edit the content so it doesn't show up as duplicate.
Eric's data feed series became hugely popular because it touched on a relatively new and trending topic in the affiliate space and offered actionable, tangible content.
People knew what data feed sites were but didn't know how to build them efficiently. Eric not only handheld his readers through the entire process but he also included downloadable PHP snippets which are needed to connect everything together on the back end.
His Content is 100% Value
In addition to the data feed and other PHP/programming-related content, Eric also provides prompt and thorough session recaps any Internet Marketing conferences he attends.
Typically, Eric takes furious notes during a session and distills them into blog posts on his way home. He then spends the next week or so publishing the articles on his blog, where he further engages in the comments.
The other type of posts Eric occasionally writes are advice posts, where he takes his ideas and turns them into motivational pieces. In Milk Your Cash Cow, for example, Eric urges us to keep making the most out of something if it works (aka don't fix it if it ain't broke).
You might also want to check out Eric's revealing panties debacle…
He's an Unlikely But Deserving Blogger
Let's face it—most programmers aren't known for their generous and innovative blogging spirit.
But Eric is the exception to the rule. He stands out because he's not your typical pro-blogger or power blogger, or even industry blogger.
He's just a guy who loves what he's doing, loves helping and inspiring others and wants people to be successful by taking action. Says Eric:
I love sharing my information — giving it all away. My goal is to inspire people, but not do the work for them. They have to do it themselves.
Obviously Eric didn't plan on winning the honor and award of Best Blogger. He just took possession of topic that needed a lot of answers, wrote a post about it, then wrote eight more posts about it, continued to deliver value to others, and the rest is history.
Oh…it looks like the award showed up again: