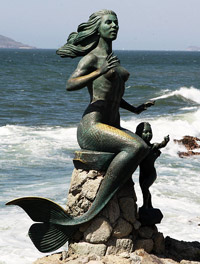 Blogging isn't easy unless you're comfortable doing it.
There are brilliant bloggers who struggle writing catchy headlines and well-sculpted copy—they're just not wired for it. Yet, they persist because that's the winning formula. It attracts attention and delivers value, so they say.
But the result of forcing a writer into a copywriter's shoes is painful. Needless hours (years!) are lost to hyping ideas with padded, ornate language. It's like getting all dressed up to go to a clothing-optional beach.
Naked blogging is the way to go, though it's not without sacrifice. For example—fewer people will click on the title of this post because it's not hyped up enough. Google won't know what to do with it, either.
But I can't hide anymore, just like Seth Godin or Chris Brogan can't. Neither should you.
This trek is inevitably longer and more hazardous, but you get to be true to yourself every step of the way.
You get to say what you want in the way that you want, and that brand of freedom is priceless.
Photo by Alaskan Dude.