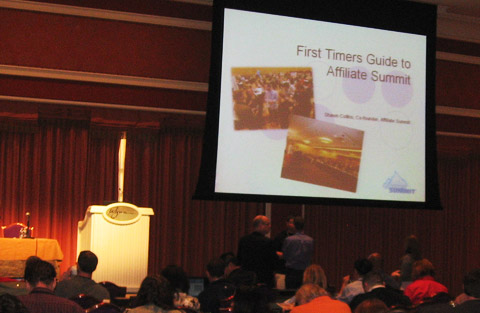 UPDATE: Due to the craziness of this event I wasn't able to live blog. But I will post some recaps and impressions following the event in the next week to follow.
Wordful is at is again in Las Vegas, this time at the Affiliate Summit West at the Wynn Hotel. Thanks to John Chow who awarded me a Gold Pass from his recent comment contest, I'm here to learn more about what's what and who's who in the Internet Marketing world.
Affilaite Summit co-founder Shawn Collins just got off the stage with his pep talk to ASW11 first-timers orientation. It was pretty basic stuff, and I can tell that most of the people here (out of 4,600 total at the conference) are the early risers who didn't party too hard last night. Uh…I guess that includes me.
As the conference goes on I will be giving live updates and highlights. Wordful's content-obsessed perspective is quite different from most of the merchant and affiliate types here, so I will have some interesting observations.
The question I want to answer is: how much does quality of the content effect quantity of sales?
Also, you can follow Affiliate Summit West 2011 on Twitter using the hashtag #ASW11.