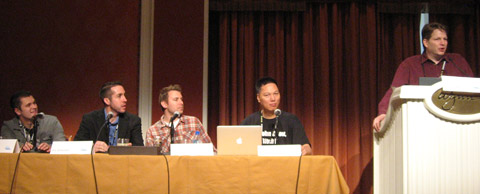 I just got over a nasty flu from Las Vegas and so this post is just a teeny bit late…but you should still read it!
On Sunday, the opening day of Affiliate Summit West, I sat front and center in the "Dominating Your Niche with Blogger Outreach" session featuring Jonathan Volk, Eric Schechter, Greg Rollett, John Chow and Chris Brogan as panel chair.
The topic had to do with best practices when outreaching to bloggers to promote your brand, service or product.
Everything Comes Down to Personal Connections
Everyone on the panel agreed on the absolute need for making a personal connection with your prospects. This means taking the extra step, the extra effort, to get to know someone (or at least something special about them) beyond what you'd see on their business card. [Read more...]