Wordful is a blog where I write about my experience and observations on writing and editing, including:
blogging
journaling
UX writing
content marketing
letter writing
style, voice, tone, spirit
the writing practice, and sometimes the writing business
About Me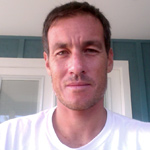 My name is Charles Bohannan and I'm a blogger, copywriter and content marketer. I'm also a family man, living and raising my children with my wife in San Francisco and Hawaii. I also meditate, run, travel, surf, read — and write.
Wordful.com started on October 1, 2008.